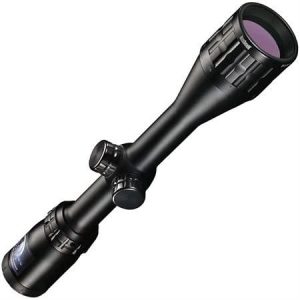 Even the best in class air rifle isn't a guarantee your shooting experience will be breathtaking. To increase the options available, matching scopes are must-have equipment.
Are you ready to depart on a fascinating journey, during which you will be acquainted with the top-10 best solutions for air rifles 2023? So, let's get started!

Editor's Choice: Quick Comparison
| Name | Image | Special Feature | Magnification | Lens Diameter (in millimeters) | Dimensions (in inches) | Weight | Price | Comment | Check price |
| --- | --- | --- | --- | --- | --- | --- | --- | --- | --- |
| Leupold VX-3i 6.5-20x50mm Side Focus Riflescope | | Custom Dial System | 6.5-20x | 50 | 17.1 x 3.8 x 4.1 | 1.7 pounds | *** | Front-runner | |
| Hawke Vantage IR Riflescope | | Lifetime limited warranty | 4-12x | 50 | 15.9 x 4 x 3.3 | 1.7 pounds | *** | Runner-up | |
| UTG 4-16X44 30mm Scope | | Excellent target acquisition | 4-16x | 44 | 17.4 x 4.2 x 3.4 | 15.2 ounces | *** | Bronze medal | |
| Hawke Sidewinder TAC 30 6.5-20X42 Mildot Riflescope | | Illuminated reticle system | 6.5-20x | 42 | 15.3 x 3.5 x 3.5 | 27.5 ounces | *** | | |
| Bushnell 614124 Banner Dusk & Dawn Multi-X Reticle | | Dusk and Dawn brightness technology | 4-12x | 40 | 16.4 x 3.1 x 2.4 | 15 ounces | ** | | |
| Hammers 3-9x32AO Air Rifle Scope | | Three clamping screws | 3-9x | 32 | 14.7 x 3.2 x 2.5 | 1.65 pounds | ** | | |
| Mantis 3-9x21mm AO Mil-Dot Air Rifle Scope | | Great for close-in shooting | 3-9x | 32 | 13.2 x 2.6 x 2.8 | 1 pound | ** | | |
| UTG 3-9X32 1" Hunter Scope | | User-friendly target turrets | 3-9x | 32 | 15 x 3 x 3 | 1.7 pounds | ** | | |
| Discovery VT-1 4.5-18x44AOE pcp Air Rifle Scope | | Free lifetime maintenance | 4.5-18x | 44 | 14 x 3.5 x 3.8 | 22.96 ounces | ** | | |
| Winchester by Daisy Outdoor Products AO Scope | | Color correction available | 2-7x | 32 | 12.6 x 3.6 x 1.8 | 1.4 pounds | *** | | |
What the majority of users consider to be an advantage may easily seem to be a significant drawback for other customers. To avoid any possible misunderstandings, leading to selection complications, we recommend you to check this quick-comparison table with main products' characteristics. They will allow you to save time and choose the most suitable equipment in accordance to properties of the weapon you possess.
Reviews Section
What are the benefits of the Editor's Choice models? Keep on reading this article to get to know some useful information.
1. Leupold VX-3i 6.5-20x50mm Side Focus Riflescope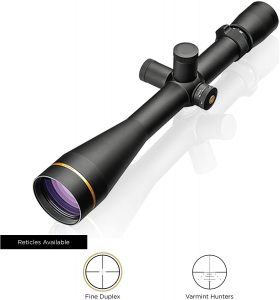 A lot of experienced customers recommend selecting reputable scope brands. The reason for that is pretty obvious: the longer the company is on the market, the bigger investment and contribution into technologies applied it has made. The Leupold organization can boast of its long presence in the industry. Founded in 1907, it is considered to be one of the most successful optics and lenses organizations. In this perspective, each of their models may be accepted as a small masterpiece. The VX-3i model isn't an exception.
According to numerous air rifle scope reviews, the Leupold product is beloved by numerous customers. First of all, the machine has undergone several tests to check its durability and life cycle. Overall, each device is able to perform in sever climate conditions. Far from every scope can boast of being truly resistant and functional at minus forty degrees Fahrenheit and up to one hundred sixty degrees Fahrenheit. On the top of that, the construction is tested to survive more than five thousand Punisher impacts (that is special equipment to simulate recoil).
Its relative heavyweightness is one of the first things to pay attention to. Well, this feature is important when it comes to going hunting with a huge package to take with. The device is still convenient in use.
The variable magnification makes the product truly versatile: long-distance shooting is easily available. The VX-3i is capable of delivering breathtaking performance in dusk-and-dawn conditions. The matter is the lens objective diameter and the overall body construction to increase the number of the light caught by the optics. This feature is accompanied with Max Light Management system, designed by Leupold.
Even though this model doesn't possess HD glass, the image quality is brilliant.

Pros
Well-thought-out protection and management systems
Super durable
Outstanding image quality
Check Price Now
2. Hawke Vantage IR Riflescope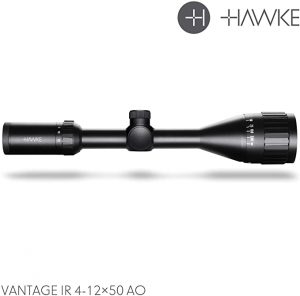 Looking for the best budget air rifle scope? The Hawke model can assist you significantly. Apart from affordability, the product turns out to be famous for its superior quality and great performance. Multi-layer lens coating is a stable glass protection. At the same time, this feature contributes to brightness, contrast, and clarity specifications of this scope.
The versatility is obvious: the variable magnification makes the product suitable for long-distance shooting. The overall body construction makes the equipment under consideration one of the top-notch choices for air rifles. Besides, its one-inch mono tube is a great quality sign.
The eye relief is pretty convenient and reached 3.5 inches. The illumination system introduced is up-market: it includes five levels and is represented in red and green colors. Since the inner body is fulfilled with nitrogen, the device differentiates with its fogproof abilities. On the top of that, the manufacturer has equipped it to perform as a one-hundred-percent shockproof and waterproof solution.
Another advantageous peculiarity of the item is the warranty provided by the manufacturer. A few companies have enough courage and assurance in own production quality to offer lifetime limited worldwide back-up services. One of the best airgun scopes, it impresses with illuminated reticle and convenient in use mil-dot system.

Pros
Multi-coated lenses
Convenient mil-dot system
Illuminated reticle
Lifetime limited warranty
Cons
For some customers, crosshairs may seem too thin
Check Price Now
3. UTG 4-16X44 30mm Scope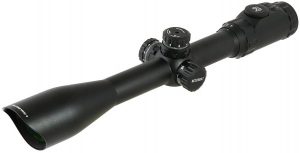 With the versatile UTG solution, you can easily perform excellently at different-distance shooting and hunting. Accompanied with parallax adjustments possible (the knob is located on the scope's side), this magnification contributes also to image quality. Even if you choose the maximum extent possible, you will see a lot of surrounding details located meters away from you. The field of view reaches 24.4 feet at one hundred yards.
Moreover, the device is equipped with innovative illumination technology. This so-called IE system improves light transmission and allows customer to use the scope even during the dusk-dawn time. It provides you with the opportunity to adjust the image in accordance to light and weather conditions. One of the most beneficial features is multi-color mode which enumerates thirty-six colors. It is absolutely amazing to look through this scope and check each of the collars. It sounds like a super-great crisp image, doesn't it?
The emerald coatings for lens allows achieving excellent image as well. The protection system is second to none. The best pellet gun scope possesses a resettable zero. It has also a locking feature to fix your turrets into place to keep the device's crosshairs from moving.

Pros
Emerald lens coating
Strong performance
Waterproof
Shockproof
IE system
Cons
Mil-dots may happen to be too small for convenient use
It may be a little foggy when zoomed
Check Price Now
4. Hawke Sidewinder TAC 30 6.5-20X42 Mildot Riflescope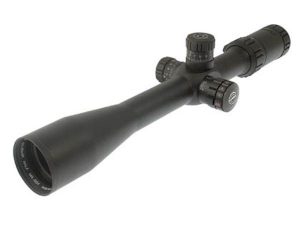 The fully multi-coated optics is the first quality promoter. Since the mono-tube chassis is rugged, it differentiates with its durability capabilities. Even though the device isn't 100-percent shock proof, it can easily resist high shocking load during the air rifle active use. At the same time, the manufacturer has constructed the product to be waterproof and fogproof. With this item, there will be no problems to observe nature and hunt even when it is raining outside.
What is precious about the best air rifle scope under 100 is its five brightness levels. If you adjust the setting from one to three, the scope will be great for dusk-dawn time. Settings from four to five enable users to select the machine for day time. The last option is the black in off position.
The side focus parallax is easier to use than a front-placed one. Overall, the knobs and turrets placement simplifies the adjustment process. You can easily do it with one hand. Special zoom rings provide solid grip.
The ocular focus can be adjusted. Besides, it is equipped with anti-recoil lock ring for more convenient use. To run the device, one CR2032 battery is required.
The kit includes several supporting accessories. Apart from the scope itself, consumers will get travel case, so the transportation will not be an issue. Besides, you will receive four-inch sunshade and screw-in lens covers for glass protection. The manufacturer guarantees the target audience will be satisfied with the item's quality. If something goes wrong, customers are welcome to use the benefits of the lifetime limited warranty which is valid worldwide.

Pros
All-in-one kit
Precision ground optics
Adjustable ocular equipped with lock ring
Cons
Heavyweight
There may be issues with adjustment
Check Price Now
5. Bushnell 614124 Banner Dusk & Dawn Multi-X Reticle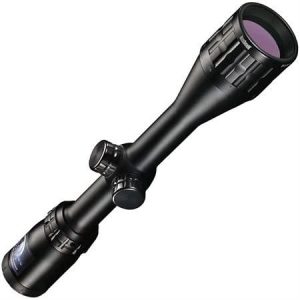 What do you want to achieve when looking for a reliable air rifle scope? Well-built construction, sturdy protection system, great light transmission — these parameters are a must-have for any device of the kind for shooting and hunting. The Bushnell product corresponds to customers' requests and produces scopes to last for decades.
To start with, the model differentiates with Dusk & Dawn brightness technology applied. Along with a 40-millimeter lens diameter, this feature increases light transmission greatly. In this perspective, you have extra fifteen minutes to observe through the scope in the low-light conditions. The clarity of the image stays decent during the day and dark time.
Another excellent function of the model is Multi-X reticle. With its help, it is easier to follow the moving target object. Featuring 3.3-inch eye-relief, this one of the best air gun scopes is suitable for people who wear glasses on a constant basis.
On the top of that, the manufacturer has implemented a special protection technology, so the body construction is completely fogproof and waterproof. The adjustments can be easily done with convenient in use turrets and knobs.

Pros
Suitable for work in low-light conditions
Clear image
Easy installation
Lightweight
Cons
There may be issues with lens (they may be scratched easily)
Not recommended for small targets
Check Price Now
6. Hammers 3-9x32AO Air Rifle Scope
I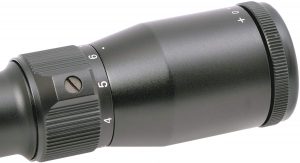 t is a pretty standard in performance scope by Hammers. However, its size and parameters specifications make it a perfect match for magnum air rifles. With variable magnification, even long-distance observing will be available. The manufacturer has designed the tube to be made of a single piece, so it is pretty durable and has a long life cycle (if cared properly, of course).
Mil-dot reticle is a thing a lot of professional hunters got accustomed to, and this variant is convenient in use. The device is equipped with inner rings. The latter element is to provide a better scope alignment.
Moreover, three clamping screws are a guarantee the item can resist the shocking load during active use of rifles or other weapon.
Taking into consideration a relatively low price, this best air rifle scope is affordable for customers with limited budget.

Pros
Easy installation
Good adjustment system
Well-built
Cons
Pretty small eye relief
Fairly heavyweight
A few special features
Check Price Now
7. Mantis 3-9x21mm AO Mil-Dot Air Rifle Scope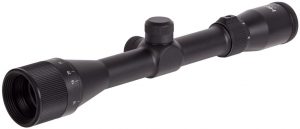 Extremely precise — one of the best air rifle scopes by Mantis differentiates with crisp and clear image, achieved at different distances and weather conditions. What promotes such a great quality? First of all, this item is ready to be used literally from the box. Since the kit includes the necessary mounting elements, you can install the product and experience its performance benefits on your own.
Secondly, no matter how many times you shoot, the zero setup will stay on the same point. In this perspective, the turrets can boast with their stable functionality. High-quality optics applied is a guarantee each time you take this scope you will achieve the excellent image clarity. Since the parallax can be adjusted (due to a special knob), the device allows you to control its performance and match it to any shooting case.
Thirdly, the item is built to last. Its special construction allows the product to resist shock influences. With mil-dot reticle and adjustable magnification, this tool will be a nice option for any range shooting.

Pros
Easy installation
Precise and clean image
Sturdy materials applied
Cons
Light collection issues may occur
Lack of special features
Check Price Now
8. UTG 3-9X32 1" Hunter Scope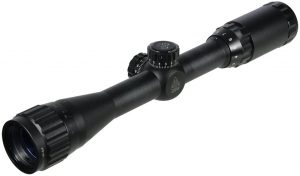 The manufacturer has designed this best airgun scope for the money to be suitable to any situation of use. The device is completely sealed. The sturdy materials applied contribute to a pretty high durability of the model. Moreover, it is fogproof, rainproof, and shockproof. Since it is inner space is filled with nitrogen, you can take it in the woods, no matter what the weather is like.
Another distinguishing feature of the product is its target turrets. First of all, they are easy to use and adjust. Solid grip provided promotes a complete adjustment control. A special clicking along with turns is one more sign that the alterations are done correctly. With zero resetting and locking, you may forget about constant need to recheck the setup settings and go shooting without any worries: the transportation won't affect the device's parameters.
The mounting of the machine is pretty smooth and doesn't require a long preparation and complicated learning curve. To note, the mil dot reticle is convenient in operation and contributes to gorgeous shooting experience.
At the same time, the device isn't suitable for early-morning or late-evening use. The lens objective diameter is thirty-two millimeters. On the one hand, it is enough for great light collection during the day time. On the other hand, it reduces the light "caught" in the conditions of low-light surrounding.

Pros
Fogproof
Rainproof
Easy-in-use turrets
Adjustment system
Cons
Not suitable for use in low-light conditions
The turrets may get loose with the course of time
The shockproof coating may be damaged easily
Check Price Now
9. Discovery VT-1 4.5-18x44AOE pcp Air Rifle Scope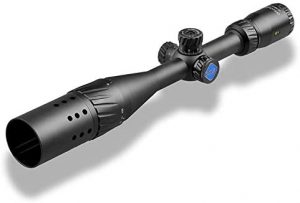 When looking for a highly qualitative riflescope, consumers are trying to find a product which offers the clearest image. The device by Discovery will definitely come in handy for those who enjoy shooting and hunting. Its 44-millimeter lens objective promotes nice light transmission, so it is possible to use the item even in the terms of low-light conditions.
Due to gas filling, the best scope for air rifle isn't afraid of water and fog influences, so it is rather a weather-resistant solution. Unlike several other models on the market, this product possesses a special coating and can boast of its earthquake resistance. This effect is also achieved thanks to multi-layer green film.
You can adjust the visibility provided. For instance, the parallax knob located in the front of the device is functional and useful.
Even though the manufacturer doesn't offer an all-in-one kit (batteries are missing), it includes either an 11-millimeter or 20-millimeter track ring (it depends on the customer's choice).
Overall, it is a quite reliable option to consider, but it doesn't have a lot of peculiarities and special features.

Pros
Easy installation
Free lifetime maintenance
Pretty affordable
Great magnification
Cons
The crosshairs may seem too thin
Lack of special functions
A lot of distortion
Check Price Now
10. Winchester by Daisy Outdoor Products AO Scope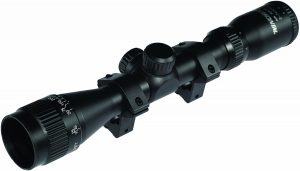 One of the precious features of this best airgun scope is its adjusting capabilities. Its power ranges within two-seven magnification. The product possesses a crosshair reticle pretty convenient in use. The special construction of the device makes it fogproof and shock resistant. At the same time, consumers are to apply the product carefully since it can be scratched easily. So, it will be necessary to purchase an extra protection for glasses and the case for transportation.
Apart from the adjustable objective, the model allows customers to customize elevation and windage, finding the perfect proportion to increase the image clarity. To note, the installation is a cakewalk even for first-time users. Since the passing mounting hardware is included in the kit, there is no need to look for extra setup accessories.
On the top of that, it is a reasonable investment for hunters and shooters: less than fifty dollars is enough to achieve a great scope for air rifles.

Pros
Affordability
Great adjustability
Cons
Pretty heavyweight
There may be issues with windage knob performance
The adjustment may lose its zero-regime
Check Price Now
Buyer's Guide
Mounting Issues
When choosing such specialized equipment, the first thing you want to do is consider the fit of the scope to the rifle. That means several things. To start with, when you hold the rifle up, can you mount the scope so that it is in the right position for your eye? You should handle the rifle normally, not having to lean way forward to the scope. Since there should be enough space for barrel operation, too long scopes may come to be inefficient.
When you select the right scope, there are a number of things you have to keep in mind. If the rifle has any details that may prevent the scope from casual mounting, it is necessary to take care about special installation elements. For instance, that could be two-piece mounts. This construction is usually called Dovetail. Apart from it, you can also find Weaver and Picatinny mounting types. But the first one is considered to be universal.
Advanced Features
Taking into consideration the fact the weather can be different, any scope should be able to resist outer influences and keep the same performance level as during common use conditions. That's why we recommend consumers to look for models which are protected from the negative impact of rain, fog, etc. If the device is shockproof, it is a separate protection guarantee that you won't damage the scope even if you drop it accidentally.
Besides, the scope should be versatile as for the season use, so it has to be functional in different temperature regimes. A lot of manufacturers check this item's ability and present the achieved results in manuals. If this information isn't available, it is better to contact the producer for details.
Magnification
Usually, the choice of the magnification depends on the use purpose. The range of shooting necessary will help you determine how big "approaching" you would like to achieve. For instance, there are scopes with 6-12x magnification, where the first number corresponds to the minimal amount, while the second — to maximum.
Objective Lens Size
The more — the better? It can work, but take into account the properties and dimensions of your air rifle. The bigger the objective lens is, the more light it is able to catch. However, that also means the scope's size and weight will also increase. In this perspective, it is better to give preference to the models from thirty-two-millimeter lens objectives, but not bigger than fifty-millimeter models.
Reticle
Overall, the reticle main models include duplex style and mil-dot configurations. Each type can be suitable for an air rifle. However, when it comes to long-range shooting, mil-dot reticles are considered to be more efficient and effective.
FAQ
What kinds of air rifle scopes are possible to purchase?
The main distinguishing feature of the scopes is magnification. So far, there are models with fixed and variable magnification. When it comes to air rifles, variable magnification is preferred since it allows the consumers to be more versatile and flexible.
What is scope parallax?
A scope is usually equipped with a parallax knob (it can be located on the side or on the front of the device). Its main task it to correct parallax error. The latter is caused because of the fact an individual is observing the target object at an oblique angle, so it seems its right location is further or closer than expected.
Is it preferable to purchase a special scope for air rifles?
Unlike common models, such equipment is designed to cope with the weapon's unique double recoil and vibration. That's why it is even forbidden to choose other scopes like firearm models for air rifles since they will be inefficient and can be damaged easily.
Conclusion
All in all, if you are well informed, even the most complicated choice may be turned into a funny process. With this article, we are striving to help each consumer to satisfy his main aim — improve your shooting experience and reach the farthest distances with reliable and qualitative air rifle scopes.