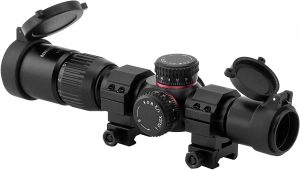 Special demand requires advanced solutions to make every customer satisfied to the full extent. When it comes to upgrading 22 long rifles, not every scope model will be the best option.
Want to know how to choose matching equipment for your guns? Then keep on reading this article!

Editor's Choice: Quick Comparison
| Name | Image | Magnification | Objective Lens (in millimeters) | Dimensions (in inches) | Weight | Price | Comments | Check price |
| --- | --- | --- | --- | --- | --- | --- | --- | --- |
| Bushnell Banner Dusk & Dawn Circle-X Reticle Riflescope | | 3-9x | 40 | 16.6 x 3.2 x 2.2 | 12.5 ounces | *** | Frontrunner | |
| Monstrum G2 1-4x24 First Focal Plane FFP Rifle Scope | | 1-4x | 24 | 9.6 x 3 x 3 | 2 pounds | *** | Runner-up | |
| Leupold FX-I Rimfire 4x28 Fine Duplex Scope | | 4 | 28 | 14 x 3.2 x 2.8 | 11.2 ounces | ** | Bronze medal | |
| Vortex Optics Crossfire II 2-7x32 Rimfire Riflescope | | 2-7x | 32 | 14 x 3 x 3 | 1.5 pounds | ** | | |
| Primary Arms Classic Series 6x32 Rifle Scope | | 6 | 32 | 10 x 3 x 3 | 14.4 ounces | ** | | |
| Burris Optics Droptine Riflescope | | 3-9x | 50 | 14.9 x 3 x 3 | 1.06 pounds | * | | |
| WEAVER Rimfire 2.5-7x28 Riflescope | | 2.5-7x | 28 | 12 x 3 x 3 | 9.8 ounces | ** | | |
| Simmons 511039 3-9x32mm .22 Mag(R) Matte Black Riflescope | | 3-9x | 32 | 3 x 15.25 x 3.25 | 9.6 ounces | ** | | |
| Nikon PROSTAFF Rimfire II 3-9x40 BDC 150 Scope | | 3-9x | 40 | 19.2 x 4 x 4.5 | 1.3 pounds | * | | |
| New Barska 3-9x40 Rifle Scope | | 3-9x | 40 | | 12 ounces | *** | | |
Brief characteristics always come in handy when there is a need to choose a single product out of a wide range of similar goods. Don't forget to take into consideration the equipment you have. Even though the offered items are specifically selected for 22 long rifles, they can easily fit other weapon models.
The overall idea of the article is to save your time: all the research has already been done, so all you need to do is just to check which of the models will be the most appropriate in your particular case. Are you ready to check our list of the best scopes for 22LR? Let's the fire show begin!
Reviews Section
1. Bushnell Banner Dusk & Dawn Circle-X Reticle Riflescope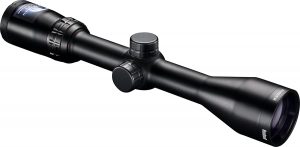 Bushnell is considered to be a reputable company and a well-known brand in the industry. Founded back in 1948, this company has been occupied with different equipment for hunting and shooting, including binoculars and scopes. With such a long history of success, they have come to a pretty advanced technology of how to produce excellent-quality devices at affordable prices. This model is not an exception and is a pure sample of how well-thought-out approach to the goods production may lead to creating real masterpieces.
Apart from 22 long rifles, this model will be suitable for shotguns, air guns, or whatever your need is. With a special Dusk & Dawn brightness lens coating, you will achieve a super clear image, no matter what time of the day it is. Besides, it is one hundred percent shockproof, waterproof, and fogproof, so you can take it with, regardless of current or further weather conditions.
The model is equipped with windage and elevation knobs that are easily adjustable. At a hundred yards, one click is enough to adjust the product's "visibility" since it has a quarter MOA system. The product possesses a matte black finish and is easy to clean and take care of.
When it is connected with the gun, this model has many advantages. Apart from a crisp and clear image, this lightweight product is pretty strong to resist loads. In cases when you have to take a lot of different things, the compact design is the first pro to bear in mind. This multifunctional rifle scope will give you a pleasing experience. On the one hand, it offers a great power due to its construction, magnification capabilities, and lens diameter. On the other hand, the installation will surprise you with its ease.

Pros
Excellent adjustability
Well-thought-out design
Multifunctionality
Advanced quality of image received
Suitable for any-weather hunting sessions
Outstanding even under the terms of low-light visibility
Affordable price
Cons
No serious drawbacks found
Check Price Now
2. Monstrum G2 1-4×24 First Focal Plane FFP Rifle Scope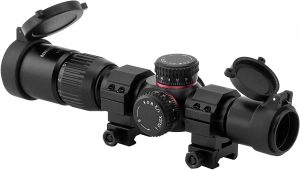 One of the craziest things about this model is an advanced combination of class and affordability. There is no need to spend over five hundred bucks for a reliable scope. The kit includes all required accessories to make your shooting session a real pleasure.
With the Monstrum product, customers will also achieve the thirty-millimeter scope rings. They have two screws on the other side, so you can get a nice tight fit on there. The included scope caps are to keep the device's glass protected. This feature is especially important when it is going to be windy or raining.
You also get a honeycomb style kill flash (so-called sunshade filter). It is easily removable, so consumers can just simply screw it off when the element is unnecessary. Besides, the kit includes a thread protector.
This model differentiates with a superior overall quality of all the details applied. In this perspective, when you look down at a target within a hundred yard range, this machine provides consumers with excellent clearness and visibility.
Due to a special construction, the device's performance doesn't depend on the weather conditions. For instance, it is resistant to fog and humidity. The feature under consideration is achieved due to the use of aircraft grade aluminum in the body.
The item's turrets are equipped with ½ MOA clicks and have a kind of really aggressive knurling on them for a better grip: if your hands are wet or dirty, you still have a complete and, what's more important, convenient control of the scope.
One of the biggest complaints consumers could have had concerning this product would be its price. However, it is absolutely fitting a lot of people's price limits, so literally nothing can prevent a true fan of hunting from purchasing this best .22 rifle scope. All in all, it is a wonderful choice to go for and take with on your shooting trips.

Pros
Easy-to-read ranging information
Waterproof
Shockproof
Fogproof
All-in-one kit
Excellent scope adjustments
Check Price Now
3. Leupold FX-I Rimfire 4×28 Fine Duplex Scope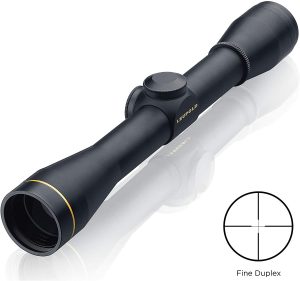 Total confidence is having the mindset that you will absolutely dominate any situation. With the best 22LR scope by Leupold, you can trust your shot to be deadly accurate.
The weather conditions don't matter since the device is designed to be waterproof and fogproof. The manufacturer has tested the device to make sure each piece is capable of resisting high loads and unpleasant outer influences. Thirty-three foot depth is not a problem to cope with for this marvelous item by Leupold.
Besides, the special body construction and ergonomic sizes make it possess an increased durability in comparison with several other alternative solutions in the industry.
The fixed magnification is a promoter of excellent picture quality without any shading effects. Optically superb and ultra durable, this model can truly perform great no matter what. Let's be even more precise. It is guaranteed to function at a very decent level when the temperature ranges from -40 degrees Fahrenheit to 160 degrees Fahrenheit.
However, someone may consider the size of the lens a significant drawback of the model. The manufacturer has designed the body to satisfy the most demanding consumer: the product's state-of-the-art coating provides maximum light transmission, reaching long-distance visibility while minimizing reflections of the sky on the outer eyepiece.
If you are looking for a model designed to last forever and more than that, this equipment is definitely worth considering. Created, machined, and assembled in the USA, the model is a sample of how supply and demand can match.

Pros
Good light transmission
Excellent design
Tested product created to last
Waterproof
Fogproof
Cons
Size of lens
Pretty high price tag
Check Price Now
4. Vortex Optics Crossfire II 2-7×32 Rimfire Riflescope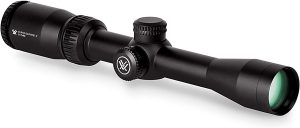 With a vast number of different rifle scopes and other optical products, Vortex has become one of the fastest developing and growing companies in the field of sport optics in the entire world. It is a very customer-friendly organization. So, if there are some issues with the product, you are welcome to contact manufacturer to consult and find a solution to the occurring issues, if any.
The other factor why this model is so appreciated on the market is its price performance ratio. For the productivity level offered, it is definitely affordable even for people with limited budget. In the Crossfire series by Vortex, the two to seven by thirty-two millimeters model is one of the cheapest.
This particular model is available with V-Plex reticle which makes the device multi-purpose hunting equipment. It is a single piece tube with a special construction to be capable of resisting water, fog, and shock influences.
The product's adjustability can't help but please consumers. It is as simple as ABC to get a sight picture due to long eye relief. Besides, a superior eye box contributes to the convenient use and image quality greatly.
You can easily reset the product to zero. The model possesses functional turrets with are finger adjustable.

Pros
Lens caps are included
It can be reset to zero
Waterproof
Great image quality
Excellent customer service
Cons
Not all-in-one kit
The mount process require some extra details
Size of the lens
Check Price Now
5. Primary Arms Classic Series 6×32 Rifle Scope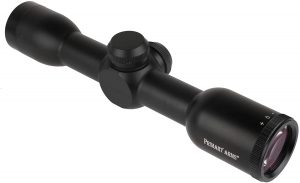 Having a good optic on your rifle is vital. Next to your barrel, the accuracy really tales itself with good scopes. The Primary Arms model is designed for the 22 long rifle cartridges.
Equipped with the patented ACSS reticle system, this device has all chances to become the most beloved partner during long-term shooting and hunting sessions. This reticle is a giant step forward on the way to next-generation rifle scopes. On the one hand, it allows a shooter to maneuver fast in the range from zero to one hundred yards. On the other hand, when the distance is up to two hundred yards, a hunter is capable of saving the same level of accuracy.
Since it possesses a fixed magnification, the image quality achieved is clear and stable at the same time. It may seem to be less versatile than some other alternative solutions on the list, but its well-thought-out and tested construction allows consumers to use the equipment under different conditions.
Since it is a non-illuminated product, you will hardly find it super essential when it is pretty dark outside. However, field view of about 16 feet, eye relief of 3.10 inches, as well as convenient adjustment system make the item a pretty suitable and helpful scope, especially for 22 long rifles.

Pros
ACSS 22LR reticle
Fixed magnification for superior image quality
Durable construction
Cons
Less versatile than other devices
There may be issues with zero-holding
Check Price Now
6. Burris Optics Droptine Riflescope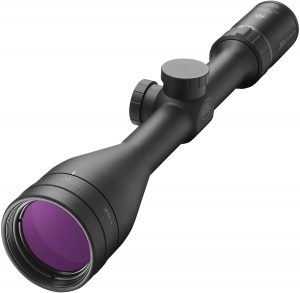 If you are looking for an excellent in performance riflescope for your centerfire, slug gun, and even muzzleloader, the model by Burris Optics may easily become your number one consideration. This three to nine by forty configuration item can boast of great resistance to outer influences. Like some other products on the list, this one differentiates with its waterproof feature. Since the tube is filled with nitrogen, the internal fogging is not a threat for the device. In this perspective, you can use it, no matter what the weather's like today.
Some consumers may find this characteristic a disadvantage, but the product's simplicity is a key to success. It is rugged and possesses quarter MOA click adjustments. Besides, there are options to control the eyepiece with a special focus.
Another distinguishing feature is the lens diameter. Since it is bigger than numerous other models possess, the Burris product offers more light and clarity during the dark-time operation. Apart from advanced light collection, the scope is finger adjustable and has a convenient in use turret.
However, the eye relief is a bit disappointing: it is just 3.1-3.8 inches. Also, the kit doesn't include such necessary things as height rings, so the product requires some extra support at the hunter's end.

Pros
Excellent light collection
Simple operation
Waterproof
Fogproof
Cons
It is not an all-in-one kit
Small eye relief
Premium price tag
Check Price Now
7. WEAVER Rimfire 2.5-7×28 Riflescope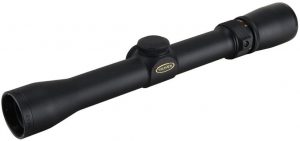 With two and a half by seven magnification, this product may seem less powerful than other alternatives on the list. However, the item impresses with the image's clarity and quality. If you prefer to cruise through the woods, this option will be the best .22 scope.
This optical solution has a quarter-inch minute of angle at a hundred yards. It also possesses about 3.6 inches eye relief. Made of the top-quality materials, this body is going to rock you with its durability. However, you should take proper care to achieve the maximum power out of this solution. Even though this tube is fogproof, shockproof, and waterproof, it is still lightweight and is not capable of resisting too much load.
The manufacturer has equipped the model with a pretty-well functioning adjustment system. Apart from the fact it possesses Dual-X reticle, the model is easy to transport and keep in order. The image clarity is achieved due to the fully multi-coated lenses.
Unfortunately, this model will not be very comfortable for those users who wear vision-corrective glasses. On the contrary, the price will surprise you pleasantly.

Pros
Great proof system
Great for storage and transportation
Affordable price
Cons
Not quite suitable for people who wear glasses
Requires a special care
Check Price Now
8. Simmons 511039 3-9x32mm .22 Mag(R) Matte Black Riflescope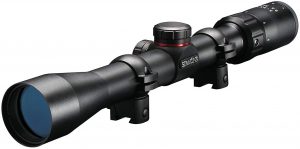 The Simmons three to nine by thirty-two millimeter scope may be considered the best 22LR scope for a reason. It can boast of features that a lot of more premium-value products possess. First of all, the kit comes with lens covers, so you can feel free to transport the device without any fear you may damage the glass accidentally. The device has also an adjustable focus and zoom. These elements allow hunters to control the image quality at different distances from a target object.
Overall, you can easily take this item up to two hundred yards. The device is also capable of holding zero. This fully-coated optics differentiates with its recoil-proof, fog-proof, and waterproof characteristics. With mounting rings included, the scope is pretty easy to install (but the manuals are still necessary to make sure it is placed correctly).
However, since the lens diameter is relatively small, the scope will not be the best option for those who prefer shooting in the early-morning or late-evening time. Besides, it may seem too lightweight and relatively small for huge hunting equipment.

Pros
Great adjustment system
A lens cleaning cloth included
Affordable price tag
Truplex Reticle
Cons
Relatively small light collection
Somewhat complicated installation
Small eye relief
Check Price Now
9. Nikon PROSTAFF Rimfire II 3-9×40 BDC 150 Scope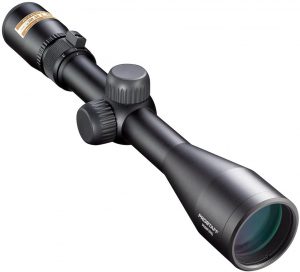 Nikon next-generation technology presents Prostaff, engineered for increased performance, precision, and ruggedness. With a level of quality that promises to satisfy the most demanding hunter, the three to nine by forty best 22 rimfire scope is changing the old thinking that 22LR is a short-range proposition.
Through the development of a new BDC 150 rimfire reticle, the manufacturer has introduced a great set of performance parameters for shooters and hunters searching for getting more power out of the 22LR cartridge.
The magnification strength, as well as lens diameter, allows considering this optical solution a quite powerful one at the high end. The system also differentiates with its turrets. You are able to load them into zero-rest regime with ease.
Fully multi-coated body, the product can boast of its being fogproof and waterproof.
At the same time, the installation may become a challenge for non-experienced users. Besides, the kit doesn't include the mounting details, so they are to be purchased separately. Taking into consideration the fact the Nikon offer is not the cheapest one, you may consider another more budget-friendly option. Still, that doesn't mean the product is not powerful or reliable.

Pros
Wonderful protection system
Pretty well adjustments available
Excellent lens quality
Cons
Not a sample of all-in-one kit
Complicated installation
Not the most affordable price tag
Check Price Now
10. New Barska 3-9×40 Rifle Scope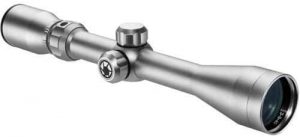 The last but not less qualitative product on the list is a standard three by nine by forty scope that will go well on all of your long range distance rifles. The manufacturer offers a ton of features for a relatively inexpensive product. For a high-level protection, the outer commercial box is accompanied with an inner one. Such advanced packing allows safe delivering to any place of the world.
The kit includes a warranty card and the instruction manuals. Frankly speaking, the latter is required since the installation may turn out to be a troublesome process. However, once you got the idea, you will achieve a great grip and excellent quality.
One of the beauties is that there is a complete matching set of weaver rings inside each box.
The scope is equipped with a big nice adjustment knob which is easy to grip. So, you are welcome to select the necessary level of the item's performance and enjoy the shooting or hunting process. To note, the manufacturer has designed this item to be waterproof, fogproof, and shockproof.
The product comes with protected caps. One the one hand, they guarantee the immersive glass quality, regardless of the weather outside. On the other hand, these elements are not attached to the scope's body. In this perspective, consumers have to be careful during operation: you may lose them somewhere in the forest when hunting, for instance.

Pros
All-in-one kit
Well-thought-out protective system
Affordable price
Cons
Caps are not attached to the scope's body
The view characteristics are somewhat less powerful than similar ones on the list
Too lightweight
There may be issues with the shockproof system
Check Price Now
Buyer's Guide
We have presented a list of scope options for you to choose from, each of which may be guaranteed to become a perfect match for your 22 LR rifle. If you still doubt which model to buy, here are the basic characteristics to pay attention to when purchasing such a specialized product. Let's get into some details!
Magnification
For rimfire rifles, it is better to prefer devices which have middle-range magnification. Too much power is not the case: it is simply irrelevant for the weapon of the kind. In this perspective, nine magnification rate maximum is pretty enough.
Reticle
In this case, you can omit models which offer superior adjustment opportunities for windage and elevation at the distance over one hundred yards — it is just not necessarily. Besides, there are special offers on the market — models equipped with illuminated reticles. On the one hand, they can make a good job. On the other hand, these elements may be too bright and on the contrary disturb from qualitative shooting.
Lens Size
When it comes to the lens diameter, the rule of thumb is valid for any equipment. The bigger this detail is, the more light transmission it promotes. At the same time, too big lenses mean increased weight and dimensions of the scope which may be simply uncomfortable to install and wear during long-term sessions. Scopes with fifty millimeter lenses may turn out to be too bulky, while devices with less than thirty-two millimeter lenses may seem reducing the light transportation capability of the scope.
Protection System
In this perspective, the scopes for 22LR are not different from other models. It is a more beneficial decision to give preference to shockproof, waterproof, and fogproof equipment since it possesses a bigger level of versatility and functionality.
Weight
Since a common long rifle usually weighs about five pounds, it is rather advantageous to select pretty lightweight models. However, such scopes' configuration may be not so durable as their heavier alternatives. It is recommended to prefer a happy medium. A too heavy optic can simply ruin the weapon's balance and improve your personal maneuvering skills negatively.
Conclusion
To sum up, twenty-two caliber rimfire ammunition has become a popular multipurpose solution. It is often used for competitions, sport needs, as well as for shooting and hunting. To achieve the maximum efficiency, special scope design is required. We have prepared top 10 advanced scopes for twenty-two long rifles in order to simplify your decision-making. Find your perfect match and enjoy superior experience with the best 22LR scopes!