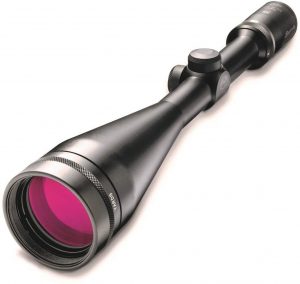 A limited budget isn't something you can challenge with: it is rather a reasonable decision to spend less in order to achieve more functionality. If a scope is pretty cheap, that doesn't coincide with the statement it is of poor-quality.
We have prepared a top-10 list of the best rifle scopes which costs less than five hundred dollars. Are you ready for this adventure tour? Let's get started!

Editor's Choice: Quick Comparison
| Name | Image | Magnification | Lens Diameter (in millimeters) | Dimensions (in inches) | Weight | Price | Comments | Check price |
| --- | --- | --- | --- | --- | --- | --- | --- | --- |
| Vortex Optics Viper 6.5-20x50 Parallax Adjustment Second Focal Plane Riflescope | | 6.5-20x | 50 | 16.2 x 4.4 x 4.3 | 2.3 pounds | *** | Frontrunner | |
| Vortex Optics Viper HS Second Focal Plane Riflescope | | 4-16x | 44 | 17.8 x 4.4 x 6.6 | 2.8 pounds | *** | Runner-up | |
| Nikon PROSTAFF 5 BDC Riflescope | | 4.5-18x | 40 | 3.3 x 4.7 x 15.8 | 2.4 pounds | *** | Bronze medal | |
| BARSKA 3-9x40 Huntmaster 30/30 Riflescope | | 3-9x | 40 | 12.9 x 4.5 x 3.5 | 12.9 ounces | *** | | |
| NcStar 2-7x32 Pistol Scope | | 2-7x | 32 | 14 x 3.6 x 2.7 | 11.7 ounces | *** | | |
| CVLIFE 4x32 Compact Rifle Scope | | 4x | 32 | 7.48 x 3.3 x 3.3 | 4 ounces | ** | | |
| Sniper Compact Rifle Scope | | 4x | 32 | 7.48 x 4 x 3.2 | 13.6 ounces | ** | | |
| AIM Sports 2-7x32 Dual III. Long Eye Relief Scope | | 2-7x | 32 | 10.75 x 4.1 x 3.5 | 1 pound | ** | | |
| Leupold VX-3i 3.5-10x50 Riflescope | | 3.5x10x | 50 | 14 x 3 x 2.8 | 1.4 pounds | ** | | |
| Burris 6.5-20x50mm Fullfield II Ballistic Mil Dot Rifle Scope | | 6.5-20x | 50 | 19.5 x 3.5 x 3.5 | 1.19 pounds | *** | | |
Reviews Section
The First Contestant: Vortex Optics Viper 6.5-20×50 Parallax Adjustment Second Focal Plane Riflescope
Having been operating over fifteen years on the market, Vortex has turned out to be a leading scope designer and producer. If you would like to purchase a highly-qualitative device from a reputable brand, this is a perfect opportunity for you.
The manufacturer has designed this model to be with a thirty-millimeter main tube. Versus one-inch alternative solutions, this one has a significant advantage: you are able to get more travel in your windage and elevation. Even though it is slightly larger than other products on the list, its crisp image, impressive customizations available, as well as multi purposeness make the Vortex model the number one scope for the price.
One of precious things about this model is that the objective lens is huge. So, you get a lot of light transference. The turrets are also easily adjustable: you can lift them up with the caps and set them on serial zero. Once you zeroed out the scope, it has an adjustment for yardage on the left. Besides, the device's mil dot reticle with MOA allows easy controlling and aligning the sights of the rifle and the mark.
The anodized coating of this best mil dot scope under $500 promotes excellent durability of the model. The eye relief is four inches, and that is extremely handy. In this perspective, it is a wonderful choice for long-range shooting and pretty huge rifles.
On the top of that, the equipment under consideration is 100% waterproof, shockproof, and fogproof, so it can resist numerous load and still perform excellently.
All in all, it is a tremendous scope by Vortex. If you are looking for a great device to put on a high-powered rifle, you may consider this best rifle scope under $500 one of the most advanced options on the market.
Pros:
Gorgeous light transmission
Well-thought-out design
Easy installation
Smooth adjustments
Cons:
No significant drawbacks found
The Second Contestant: Vortex Optics Viper HS Second Focal Plane Riflescope
The frontrunner on the list is another product by Vortex. This best long range scope under $500 belongs to its HS series and is known for excellent combination of sleek design and advanced efficiency. With the device under consideration, potential customers will achieve from four to sixteen magnifications, so long-range observing is absolutely available. Besides, the image quality is second to none. The manufacturer has equipped the item with special XD glass. Such up-market optical system is exactly what you need if you want to have a clear and crisp image from edge to edge.
Since the objective lens is forty-four millimeters, the light transmission is pretty well. You are welcome to spend other fifteen minutes hunting or shooting when it is early-morning or late-evening time.
With the four-x zoom, users will be able to see the target as if it is very close to them.
In this case, the turrets are both capped — elevation and windage. It provides protection for turrets, especially useful when you take your rifle with the scope applied and walk miles to the target destination/ point. Thus, you can simply forget about worrying that you may bump your turrets accidentally and damage them somehow.
Moreover, you can reindex the scope to zero-point. In this perspective, this best hunting scope under $500 turns out to be more like set-it-and-forget-it.
The system is strengthened with ultra-hard protective coatings, so exterior lenses will be always "guarded". Since the body is made of extremely durable materials and designed to be waterproof and fogproof, consumers will be impressed with its prolonged life cycle.
Pros:
Great protective measures
Waterproof
Fogproof
Excellent light collection
Enormous adjustability
Cons:
Slightly heavyweight in comparison to other models on the list
The Third Contestant: Nikon PROSTAFF 5 BDC Riflescope
Numerous hunt-games lovers will surely fall in love with the rifle scope by Nikon. Excellent design, great set of features and affordable price — what else is necessary when it comes to the purchase of durable equipment?
This best tactical scope under $500 has got the first focal plane BDC reticle with distance lock technology. As you zoom in, you will see the BDC reticle is going to look like it gets a little bit bigger with the increase of magnification. It allows you to use the spot-on app at any distance. It also offers ballistic drop compensation, so you can monitor your bullet drop. It is easy to use different aiming points to make sure you are going to hit the right spot.
The Nikon product possesses a quarter MOA windage and elevation adjustments. With a nice solid grip and clear clicking sound, customers will know exactly how many turns they have already made. The side parallax adjustment is located on the left of the device. This detail is really important if you are going to be shooting at long ranges beyond a hundred yards. What this adjustment offers is more accurate observing and hunting experience.
Pros:
Premium light transmission
Advanced turrets technology
Remarkable adjustment system
Excellent for long-range shooting
Cons:
The model possesses relatively heavy crosshairs
The Fourth Contestant: BARSKA 3-9×40 Huntmaster 30/30 Riflescope
If you are looking for a good budget scope for a rimfire rifle, then this model can satisfy your needs.
This fully multi coated optics differentiates with its "proof" abilities: the model can resist the influence of water and fog. Besides, it won't be damaged if you drop it accidentally thanks to the shockproof protection. Silver finish makes it one of the most eye-catching devices on the list. This model will be a great gift for any occasion for those people, who want equipment to combine a modern design and outstanding performance.
The latter is achieved due to comfortable in use side adjustment knobs. They are dedicated to control elevation and windage. Besides, a thirty-six-foot field of view at one hundred yards provides consumers with an excellent and clear image.
Featuring a duplex reticle, this scope is also parallax free at one hundred yards. The objective lens reaches forty millimeters, so the light collection is pretty well.
Overall, the kit includes scope caps, matching mounting rings for easy installation, as well lens cloth for smooth care.
One of the most precious things about the model is the lifetime warranty. If you come to face some workmanship issued or materials defects, feel free to contact the manufacturer to deal with the case.
Pros:
All-in-one kit
Excellent light transmission
Waterproof
Fogproof
Shockproof
Lightweight
Cons:
There may be issues with the crosshairs
There may be issues with parallax adjustments
The Fifth Contestant: NcStar 2-7×32 Pistol Scope
The NcStar scope is one of the cheapest items on the list. However, it differentiates with a stable quality provided. Even though it doesn't possess an illuminated reticle, the image received is definitely clear and crisp. The thirty-two millimeter objective lens promotes a nice level of light transmission. If you are not striving to shoot in terms of low-light conditions, this model may come in handy for sure.
The product under consideration is pretty easy to mount on a rifle and same for taking it back for replacing on another weapon, for instance. Unlike other models on the list, it also can boast of its eye relief: this detail measures 8.7-to-10.7 inches. In this perspective, the superior mounting capability is achieved.
Featuring multi coated lenses, the device possesses a variable magnification. Consumers can adjust it from two to seven. Overall, the kit includes special lens protective caps and weaver-style rings made of aluminum.
Pros:
It suits Mosin rifles perfectly
Easy installation
All-in-one kit
Super affordable
Cons:
There may be issues when adjusting the device
The model doesn't offer any sort of ranging
Not dedicated for the use under low-light conditions
The Sixth Contestant: Sniper Compact Rifle Scope
This lightweight solution by Sniper is for a reason included to our list of the best budget rifle scopes. The model under consideration differentiates with its emerald multi-coating. The latter contributes a lot to the overall durability of the product. Of course, proper care is required if you want to save the item in the original state as long as possible.
Another distinguishing feature of the item is its being shockproof. Due to the premium construction made of sturdy aluminum, the device is capable of resisting pretty huge loads and won't be damaged if you drop it accidentally.
With the lens caps included, the best 1000 yard scope under $500 is easy to transport without any risk to scratch the glass or break it. Besides, the kit offers special mounting rings, Hex screws and wrench to simplify the installation.
The inner body construction makes the scope fogproof and rainproof. It is a sample of qualitative scope with fixed magnification. All the things considered, it provides customers with a bright and clear image.
Pros:
Lightweight
Compact sizes
Shockproof
Fogproof
All-in-one kit
Cons:
The reticle may turn out to be not the most comfortable in use
The model possesses huge crosshairs
There may be issues with the item's durability
The Seventh Contestant: CVLIFE 4×32 Compact Rifle Scope
If you have been on Amazon looking for budget scopes, you might have come across CVLIFE production. This best 308 scope under $500 differentiates with its compact but sleek design. The length is 7.48 inches, so customers are welcome to take this item when an active hunting is going to take place. The model comes with a matching pair of bikini stock covers which are pretty cool and even allow looking through them.
With toeless turrets' adjustments, you can prepare fast to any shooting or hunting session: it is one core MOA at a hundred yards. The knobs' location is pretty comfortable and provides smooth control over customizing capabilities of the device.
The magnification is fixed and measures four times. Even though the model is not as versatile as some others on the list, it still offers a great image quality power. Due to the thirty-two-millimeter objective lens, the light collection provided is enough to achieve a crispy and clear image.
The manufacturer has also designed the product to be shockproof. Since the body contains inner inert gas, the model is fogproof. Of course, the waterproof feature is available as well.
Pros:
Lightweight
Compact design
Waterproof
Shockproof
Fogproof
Cons:
Not the best choice for long-range shooting
Relatively small eye relief
It has issues with zero-holding
The Eighth Contestant: AIM Sports 2-7×32 Dual III. Long Eye Relief Scope
The product offers two to seven times magnification, so it is a nice option for long-range shooting. A cool thing about the AIM Sports item is that it has a built-in laser on the side. There is a push button on the back. Since it is set off to the side, it requires some time to get accustomed to its functioning. Windage and elevation adjustments are easy to scroll, so you have a great control over the image quality in general.
This model is really meant to be set up further away from your eye: it differentiates from what you would typically see on a casual rifle installation. To get eye relief properly, you don't have to put it too close to your eye. It is necessary to find that distance back away from the scope, so that the object or whatever you are looking at through the device fills the entire glass. If you are too close, you will have a very distorted and weird look through the component.
Overall, this best long range rifle scope under $500 comes with matching protective lens caps and a manual instruction.
Pros:
Reliable and super long eye relief
It is capable of holding zero with ease
Solid body construction
Cons:
It requires a special installation
There may be issues with laser adjustments
Lens covers are not durable and made of plastic
The Ninth Contestant: Leupold VX-3i 3.5-10×50 Riflescope
Taking into account the lens size of the scope, the overall dimensions should be really huge. However, that's not a complete truth for the model by Leupold. With this device, you achieve a high quality performance in a rugged ultralight package. To note, fifty-millimeter glass diameter increases the light collection capabilities of the model, so that consumers are welcome to observe with the scope even under low-light conditions.
With a wide range of magnification options and a special Twilight Max management system, there is almost no situation when this product can't perform at a decent level.
One of the first things to pay attention to in this best low light scope under $500 is its lightweightness. In its category, it is a real champion. If you are going to take a lot of stuff with you when going in the woods, then this scope might become your pure lifesaver. After a three-hour stock in a ten-mile hike back to camp, you will be really glad you saved on some weight.
The next thing to note is the VX-3i elite optical performance. Besides, the item is able to resist even the hardest recoil, since it is made of high-sturdy and reliable materials only. In this perspective, your proper care can help you prolong the life cycle of this scope.
Pros:
Nice adjustability
Waterproof
Fogproof
Great light transmission
Cons:
It is not completely shockproof as stated
The installation is somewhat challenging
It is more expensive than some other products on the list
The Tenth Contestant: Burris 6.5-20x50mm Fullfield II Ballistic Mil Dot Rifle Scope
It is worth highlighting such a great entry level optic for those who are just getting started out. The rifle scope by Burris has 6.5 to 20 magnifications, so the device is suitable for long-range observations. Besides, the lens diameter in fifty millimeters provides consumers with a significant competitive advantage: this size is a promoter of excellent light transmission. In this perspective, a nice quality image is achieved even when it is pretty dark outside.
Taking into consideration the magnification offered and the item's length, it is obvious the product is pretty compact. Moreover, the manufacturer has designed it to be pretty smooth in installation. The tube contains the inertia gas inside to achieve an enhancing waterproofing effect. On the top of that, the device can boast of its illuminated reticle.
One of the first things consumers are going to notice is its fully multi coated main tube. This feature reduces reflected light and is a wonderful contribution to the lens size capabilities of the product. Since the main tube is thirty-four millimeters, it provides a good bit of internal elevation adjustment. With this best illuminated rifle scope under $500, you are able to get ninety MOA of internal adjustment. So, no matter what caliber you are shooting, you are probably going to be able to get it past thousand yards without any issues.
Pros:
Illuminated reticle for better visibility during low-light conditions
Compact design
Great magnification
Nice light collection system
Cons:
Illuminated reticle may turn out to be too bright and reduce visibility of tiny objects
It is not shockproof
There may be issues with getting the correct parallax setting
You may face some chromatic aberration and milkiness
Buyer's Guide
What to pay attention to when choosing a highly-qualitative scope for your rifle? There is a list of important features to consider before making a purchase. So, let's just dive into them!
Magnification
Scopes with fixed magnification are convenient for shooting at a given stable distance. Such construction has a few moving parts, which means the overall item's design is more reliable. Due to the simplified optical system, models with fixed magnification are often cheaper than their alternative versatile solutions.
By the latter, we mean the products with the variable magnification. Such scopes possess an additional mechanism for moving lenses. With its help, the visibility is pretty good, but the closeness to the target object may be more than in the previous product case.
If a scope is used for one type of hunting at a relatively equal distance, it is recommended to choose products with fixed magnification, since they offer a clearer image while providing more stable and durable body construction. If you are to select a scope for different purposes at different distances, then it is a rather beneficial decision to give your preference to models with a variable magnification.
Field of View
When choosing the scope magnification, do not forget about another important feature like field of view. The overall rule of thumb is as follows: the higher the magnification is, the better the details are visible, but the less the field of review will be. In optical scopes of variable magnification, the aperture decreases at high magnification values. If you are interested in shooting in low-light conditions, then you obviously need to increase visibility. In this case, that would be reducing magnification.
Lens Coating
The micrometer layers of the lenses' coating allow reducing the light loss due to its scattering and reflection capabilities from the glass surface. The lenses with an anti-reflection coating provide greater brightness and contrast of the image.
Lens Diameter
The bigger the lens is, the better it is. This statement sounds reasonable, doesn't it? However, the diameter of more than fifty millimeters will turn out to be useless for common shooting and hunting. Such models have a more dedicated usage purpose. Their constructions are bulky and unsuitable for daily operation. In this perspective, it is better to select lenses in the range from thirty-two to fifty millimeters.
Extra Features
To make sure your investment will be beneficial, take a look at the models which differentiate with their protective systems. It is better to choose waterproof, fogproof, and shockproof scopes.
FAQ
Which magnification is enough for one hundred yards?
For normal shooting at such distance, a minimum six times magnification is required. If you have a scope with variable magnification, then you are more versatile and have an appropriate device for different-distance shooting.
What do the numbers in the scope's model mean?
This is a simple code which hides some basic characteristics of the scope. The first numbers like 4x or 2-7x define the range of magnification. If you see 32, 40, 50, etc., this is a direct measurement of the lens objective diameter in millimeters.
Conclusion
All in all, no matter what your final purpose is — hunting or shooting, — the point is how qualitatively the combination of a rifle and a matching scope will perform in total. To achieve the highest efficiency, follow our recommendations, and you will be able to choose the best rifle scope under $500 with ease!