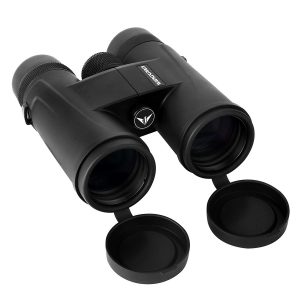 For hunters, binoculars have become irreplaceable assistants. With the tool's help, you can conduct reconnaissance of the area, notice the approach of game in advance and prepare for a meeting with it. This accessory is a qualitative contribution to several experiences apart from hunting: it will come in handy for fishermen, tourists, and just amateurs who prefer observing nature and its inhabitants.

If the search for the best 8×42 hunting binoculars seems to be too challenging for you, we would like to help you simplify decision-making. Want to find a super multi-purpose device? Stay tuned and keep reading this article!
Editor's Choice: Best 8×42 Multipurpose Binoculars
| Name | Image | Dimensions (in inches) | Weight | Purpose | Price | Notes | Check price |
| --- | --- | --- | --- | --- | --- | --- | --- |
| Celeston Nature DX 8x42 Binocular | | 5.3 x 2 x 4.9 | 1.75 | Excellent multi-functionality | *** | Editor's Choice | |
| Celeston Outland 8x42 Binocular | | 7 x 3 x 8 | 2 | Extraordinary protection | *** | Runner-up | |
| Bushnell Roof Prism Binocular | | 7 x 6 x 3 | 1.56 | Wonderful image quality | *** | | |
| Nikon 7576 Monarch 5 8x42 Binocular | | 5.7 x 5.1 x 2.4 | 1.3 | Great adjustability | * | | |
| Wingspan Optics WingCatcher HD 8x42 Professional Binocular | | 5.8 x 4.8 x 2 | 1.5 | Professional tool for bird watching | ** | | |
This brief table represents some main binocular characteristics. Our top-5 of the best binoculars for bird watching and hunting can become a wonderful present for anyone, regardless of occupation. Each of these tools is a wonderful choice for amateur and professional use.
Are you ready to get more details about our winners? Let's get started!
The First Top-Notch Assistant: Celeston Nature DX 8×42 Binocular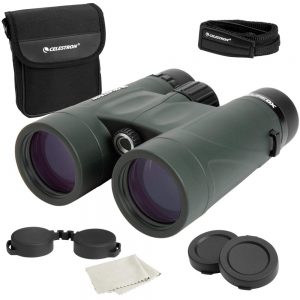 You can take this binocular anywhere and anytime, regardless of what the weather is like outside, because the product by Celeston is equipped with all necessary elements to make your hunting and nature observing perfect as never before.
To start with, this tool differentiates with its relatively small dimensions and will be a nice choice for both men and women. Its robust body is waterproof and fogproof, so a high-qualitative image is guaranteed. In addition, a customer will experience perfect grip due to the tool's polycarbonate and rubber-armored housing.
The excellent image quality is also achieved due to other device's specifications.
Eye relief measures 18 mm, so it is a great option for all categories of people, regardless of their visual acuity. It does not matter whether you wear glasses or not — you will experience no inconveniences because of the product. Apart from this, eyeglass wearers are benefited with super convenient twist-up eyecups: they allow ensuring proper positioning and avoiding any eyes hurting. To note, this detail possesses multi-stop function to improve your contact with the binocular.
The Nature DX binocular possesses an excellent field of view and close focus distance. To note, this device is also adaptable to the use with tripods, so the multi-functionality is increased enormously.
Overall, the kit includes special eyepiece rainguard, neck strap, as well as lens cloth. The manufacturer also provides customers with their instructions and recommendations on how to use and care of their binoculars in the best way possible.  The support team is always accessible to help you solve issues, if any. On the top of that, lifetime limited warranty is another benefit and one more proof of the gorgeous quality of our front-runner on the list of best 8×42 binoculars under 200 dollars.
Pros
Powerful image performance
Robust construction
Fog- and waterproof
Lightweight
Affordable price tag
Excellent adjustability
Check Price Now
The Second Top-Notch Assistant: Celeston Outland 8×42 Binocular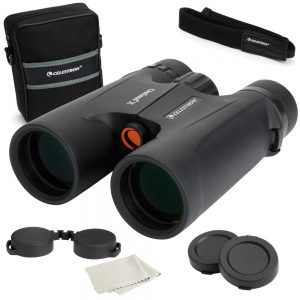 Our second favorite binocular is also from the Celeston company. Excellent robust design, protective rubber armoring, and super affordability for any budget make this tool a wonderful alternative to bigger and more expensive binoculars. No matter what your interests are, for instance, bird watching, general wildlife observation, or hunting, this device will be exactly right for your specific needs and requirements.
This equipment is designed to withstand various weather conditions: its being water- and fogproof is a great advantage over several other models with bigger magnification but without this feature. The durability of the Celeston tool is second to none: this effect is achieved due to the special covering which provides anti-damage protection and excellent anti-grip surface.
Besides, this binocular differentiates with awesome adjustment functions. With the help of twist-up eyecups, you can manipulate the focus settings in order to get a full field of view. Excellent for all types of users, eye relief is 18 mm and makes the equipment suitable for work while wearing glasses.
Apart from slight differences in specifications, this model is a little bit less profitable than the first competitive since it is not suitable for the use with tripods. Otherwise, this tool is perfect to enjoy detailed and crisp view.
Pros
Water- and fogproof
Well-thought-out construction
Lightweight
Excellent price affordability
Cons
It is not tripod adaptable
Check Price Now
The Third Top-Notch Assistant: Bushnell Roof Prism Binocular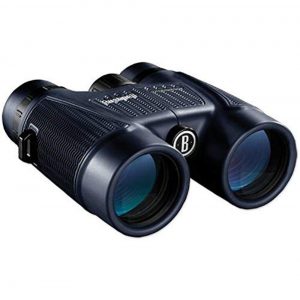 When it comes to the choice of binoculars from reputable brands, Bushnell is one of the first manufacturers to always follow and check their updates and upgrades. Their long history of success has proved the excellent quality and reliability of their production. In this perspective, Bushnell H2O binocular is far from an exception.
With this device, you will experience what excellent observation is. It is easy to track small and large objects on unknown territories with complicated landscapes due to the lenses and body construction. 17 mm eye relief and 325 ft. field of view make this binocular perfect for general monitoring and hunting as well. Its roof system is comfortable for a viewer and doesn't cause any painful feelings or inconveniences. In addition, its large center focus knob is a great simplifier when it comes to adjusting the view parameters.
The device possesses Soft Texture Grip and special rubber armoring. With their help, the effect of shock absorbing is achieved. To note, Bushnell H2O binocular is 100% waterproof, so you can use it whatever the weather is like.
The manufacturer has also tested the materials applied. As a result, all of them contribute to the product's durability and make it last for decades, if not more. Excellent bonus for customers — limited lifetime warranty is offered.

Pros
Solid design
Water- and fogproof
Multi-coated optics
Advanced kit
Cons
Its specifications are a little bit worse than of previous alternatives
Check Price Now
The Fourth Top-Notch Assistant: Nikon 7576 Monarch 5 8×42 Binocular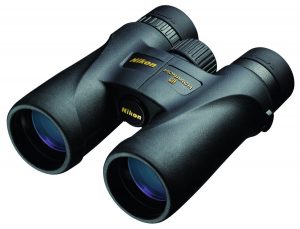 If you want to select a portable and lightweight binocular for hunting, the Nikon binocular will be a sample of excellent quality and performance combination.
The tool supports enormous light transition, achieved due to fully multi-layer coating. To note, the lenses are made of eco-glass, and other materials applied differentiates with their being friendly to the environment. The construction of lenses and the coating applied ensures outstanding view experience: with the binocular, you can see accurate and rich colors almost of the same brightness as if you were looking at objects by the naked eye.
The Nikon binocular possesses turn-and-slide rubber eyecups. This tool provides consumers with an excellent opportunity to adjust the eye-relief to achieve the most convenient experience during extended periods of the product's use.
Being waterproof and fogproof makes the binocular suitable in different locations and in various periods of time.
Unlike other models on the list, its price tag is higher, so this product may be less affordable for customers. However, this binocular is worth investing for sure.

Pros
Brightness and sharpness of the image
Fog- and waterproof
ED glass lenses
Turn-and-slide rubber eyecups
Portability
Check Price Now
The Fifth Top-Notch Assistant: Wingspan Optics WingCatcher HD 8×42 Professional Binocular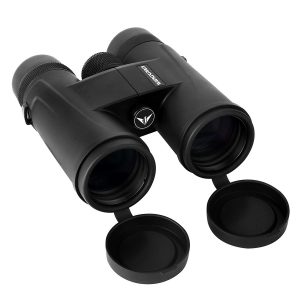 If you are an avid birdwatcher, you already know the importance of a good set of binoculars. There are features that birdwatchers need that are just not available in a standard pair of binoculars. In this case, Wingspan Optics is a perfect solution. It is full of spectacular features that really make birding both exciting and enjoyable. The product can boast of its high density lens that provides you with excellent detail clarity and vivid colors. Besides, this model is designed to be tough enough to withstand extreme outdoor conditions: it is waterproof, fogproof, and drop proof. On the top of that, the binocular possesses an anti-slip grip for some added protection.
The product has a 8×42 magnification which is the most stable one for not just birdwatching. It makes it also suitable for hunting and other purposes. With a central focus system, all the adjustments are easy to do on the go.
To make this equipment even more amazing, the manufacturer makes it come with a lifetime warranty.
The kit consists of several supporting items, including neck strap for comfortable wear and a special microfiber cleaning cloth for smooth and smart cleaning.

Pros
Well-thought-out protection system
Adjustability
Robust construction
Image quality
Check Price Now
Buyer's Guide
Sooner or later, it turns out that a binocular is a lifesaver for every hunter, fisherman, and tourist. However, when trying to find the most suitable tool, a person sees such a huge assortment so that one simply can't make a decision because of that overchoice. How to choose a good binocular for hunting or fishing, which will last for many years and will be a faithful companion in different situations? Of course, there are no absolutely universal models. However, there are some characteristics of a device which will make it suitable for several experiences. What to consider first when choosing the best 8×42 binoculars for hunting? Let's handle this issue!
Price
Surprisingly, one of the first parameters to be sure about is the budget you are ready to spend for the purchase. To note, it is quite possible to find best 8×42 binoculars under 100 dollars which will be sometimes even more functional than more expensive models. If you have a limited budget, you can even choose a used but well-proven model. The fact is that there are almost no wearing mechanical parts. Therefore, with careful handling, such products can last for decades, so you will be able to make a beneficial investment.
Lightweightness
Since preparing for your hunting session, you will have to carry a lot of equipment. Thus, it is not a rational decision to give your preference to very big binoculars. Besides, observations with this device can be quite long, so to take into consideration the overall construction of the binocular is a must. Please, make sure that your frontrunner is not too heavy and bulky for you. The binoculars design should be fairly balanced and as compact as possible. Mainly, roof models are quite satisfactory in this perspective, but you can find pretty lightweight porro binoculars as well.
Type of Prisms
Nowadays, there are two main types of prism systems used in binoculars: porro and roof. If the device is equipped with roof prisms, the lens and eyepiece are located on the same axis, one after the other, making this binocular more compact and lighter. When using porro prisms, the lenses are shifted to the sides relative to the eyepieces. Such construction provides better image quality and increases the depth of perception (this is possible due to the increase in the distance between the centers of the lenses).
Antireflection Coating
Optics enlightenment significantly affects the image quality, first of all, its brightness and contrast in low light. In binoculars with unenlightened optical components at the boundaries between air and lenses, up to 40% of the light entering the lens is lost. In a device with full multilayer enlightenment, the loss is only 2.5% or even less. Modern binoculars, as a rule, have an antireflection coating — that is a special layer applied to the lenses, which reduces light loss. But such coating can be different. One- and multilayer antireflection means applying one or several layers of antireflection coating on the first and last lenses. The latter option will provide better image quality. The color of enlightenment (if you look at the lenses at an angle in the light) can vary. The models with green enlightenment are considered to be the best 8×42 binoculars 2018. As regards the orange coating of optics, it is recommended to use such devices in sunny weather. Such coating literally cuts off infrared radiation which is harmful to your eyes. Moreover, it plays a role of the optical light-protection filter in twilight or fog conditions, so that a higher level of image contrast is achieved.
Check the Marking
A variety of labels can be applied on binoculars, depending on the model, manufacturer, and other factors. However, you will find must-have two numbers on any product of the kind. They reflect its most important characteristics and usually look like 7×50 or 8×42. The first digit corresponds to the increase (enlargement of the image), while the second is the lenses diameter (in millimeters). The latter option is important: the larger the diameter of the lenses is, the better image quality it will produce. However, with the increase of lenses, the dimensions of the device are bigger as well.
When it comes to magnification, we don't recommend selecting models with variable magnification, for example, 8-32×40. First of all, the magnification change mechanism complicates the products design, which makes it less reliable and increases its weight. Secondly, such binoculars always have a smaller field of view compared to similar devices of fixed magnification. The optimal magnification for field binoculars is considered to be 6-8x: this is enough to confidently recognize the target, but with such an increase the microtremor of hands does not affect the image. Binoculars with magnification over 15x can't be used without a tripod.
Typically, the field of view is also indicated on the body. This measurement is mentioned in degrees or as a linear field at a distance of one thousand meters. The better this parameter is, the better the quality of the image you will have.
Focus Mechanism
As a rule, modern binoculars have a central focusing mechanism with the possibility of diopter correction. In turn, the latter allows compensating different visual acuity of the left and right eyes. Besides, this mechanism gives you an opportunity to adjust the image sharpness in both eyepieces at the same time. However, if your eyes have too different visual acuity, it will be reasonable to consider models with separate focusing systems on each eyepiece.
Eye Relief
This is an especially important parameter for those who wear glasses and are not going to take them off during the observation period. In this case, eye relief should be at least 15 mm. Otherwise, you will not be able to use the device to the full extent. In addition, if eye relief is relatively small, you have to be too close to the lenses, which can lead to lens contamination due to touching them with eyelashes.
Protective Covers
Most binoculars are equipped with protective caps for lenses and eyepieces. They protect the lenses from dirt and damage when the binocular is carried without a case. At the same time, these details are not really convenient in use since they can simply fall down or be lost. In this case, protective covers which are attached to the device are more reliable.
Specifications
A qualitative binocular must be waterproof. In the ideal case, it should withstand immersion in water at a shallow depth, but this is no longer a requirement. At the same time, such device should contain nitrogen, otherwise a sharp cooling under wet weather conditions will lead to fogging of the internal optical elements and leave you without an observing tool.
It will also be useful to have a rubber coating on the case — thanks to it, a reliable grip of the binoculars is ensured, and it does not slip even in wet hands. Moreover, such coating protects the case from minor mechanical influences (weak impacts, scratches, etc.).
FAQ
How often should I clean my binocular?
First of all, you should clean equipment as the necessity arises. Any cleaning is a risk to damage the glass or antireflection coating. Secondly, you should take care of the device to prevent possible contamination. So, lenses must be covered with protective caps to prevent dust and rain from settling on them and avoid adverse environmental influences. If you do not have protective caps, whenever the binocular is no longer needed, just put it in the case. If you have lost the case or caps, we highly recommend you to purchase a replacement.
Here are some additional recommendations of how to take care of your binocular:
Get acquainted with the manufacturer's recommendations for cleaning binocular lenses. They are more preferable to follow.
Try to blow off dust particles or dirt from the lenses of the binoculars first before handling them with a napkin or brush. Following this, breathe on the lenses and remove any visible stains with a cleaning tool such as a cleaning pen or cleaning cloth. Use only high-quality optical cleaning products that do not damage the anti-reflective coating and do not leave marks on the lenses.
Do not leave the binoculars in the area of direct exposure to the sun, for example, in a car or at home near the window. The intense rays of the sun can damage the device.
Do not try to clean the lenses with a cloth if salt water gets on the glass, otherwise you may leave scratches. First, rinse the lenses under a stream of fresh water (preventing it from getting inside if the binoculars are not completely waterproof).
Is it better to choose a monocular than a binocular?
The choice of the device depends on the purpose of use in this case. The list of main advantages of monoculars over other optical systems (for instance, a telescope) includes its compact size and lightweightness. The fact it is simple and comfortable to carry with you, wherever you go, is deeply appreciated by various groups of consumers. However, it is still a device for one-eye observation, so it may be inconvenient for some consumers. If you need to monitor large areas constantly, then binoculars will be a more beneficial choice for you.
Which binocular is it better to go for — 8×42 or 10×42?
Overall, the main difference between these two models is the magnification level. The disparity between the size and weight may be extremely minimal. Indeed, most brands will list 8×42 and 10×42 models within the same series as being identical in both size and weight. However, there are still a lot of 10×42 binoculars which are a fraction heavier than competitors. The reason is that they need slightly different lenses and often thicker glass to create the higher power.
Conclusion
The choice of any product can become a real headache, especially when there are so many important details to consider. We have prepared this article and the list of our top recommendations to make sure your shopping will be successful. To make you satisfied with the purchase and the results of work with the equipment — this is our super goal.
Check out our top-5 of the best 8×42 binoculars and be ready for hunting and nature observing, regardless of the weather and time of the day! It has never been easier to improve your hunting experience. Don't miss it out!