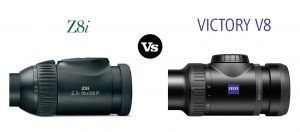 So, the IWA 2016 is behind us and with Swarovski introducing its new, top-line scope (named Z8i), I believe that it will be really useful to provide a comparison between Zeiss V8 and Swarovski Z8i. This on- paper comparison consists of an objective technical comparison which was provided by both manufacturers, and also a subjective description of the advantages between one scope versus the other. I would like to be immediately clear here, that within the subjective section, it is not my intention to tell you which model is better, but rather, which features I liked more based on my own experiences. Therefore, the subjective part will focus a little bit more on long-range shooting, but hopefully everyone can find this information helpful.
Technical comparison
Since this is a long range hunting site, I have chosen the most powerful model from both brands advertised as hunting scopes. If you had expected to see here the 4.8-35×60 model from Zeiss, I chose the smaller model on purpose. The Zeiss Victory V8 4.8-36×60 is much larger and heavier than the 2.8-20×56, and its ASV Competition is actually designed for target shooting. At the same time, Swarovski has their X5 rifle scope line for target shooting. The new Z8 line will be their top model for both long and short range hunting.
| | | |
| --- | --- | --- |
| | Swarovski Z8i 2.3-18x56 P | Zeiss Victory V8 2.8-20x56 |
| Image | | |
| Price | | |
| Magnification | 2.3-18(factor 7,8) | 2.8-20(factor 7,1) |
| Effective Lens Diameter | 18.4mm/56mm | 27.5mm/56mm |
| Exit Pupil Diameter | 8.1mm/3.1mm | 9.9mm/2.8mm |
| Field of view (100m) | 18.6m/2.3m (factor 8) | 15.5m/2.1m (factor 7.4) |
| Field of view (degrees) | 10.6/1.3 (factor 8.2) | 8.9/1.2 (factor 7.4) |
| Diopter adjustment range | -3 to +2 | -3.5 to +2 |
| Eye relief | 95mm | 95mm |
| Parallax free | 50m-infinity | 50m-infinity |
| Max vertical adj.(100m) | 180cm | 210cm |
| Max horizontal adj.(100m) | 100cm | 135cm |
| Light transmission | 93.00% | >92.00% |
| Length (in/mm) | 364mm | 350mm |
| Weight (oz./g) | 25.6/725g | 29.3/830g |
| Central tube diameter (mm) | 30mm | 36mm |
Some technical data clarification:
The factor numbers that you find in the magnification and field of view (100m and degrees) are obtained by dividing the bigger number by the smaller number. For example, 18/2.3 gives us 7.8, which is actually the magnification factor of the Swarovski Z8i 2.3-18×56 P. You can also see that Zeiss Victory V8 2.8-20×56 has a magnification factor of 7.1. However the field of view in degrees gives us a more correct factor. For the Swarovski, you can see that this is 8.2 compared to Zeiss, which has only 7.4. From this number alone, I wonder what that V8 in the name means? It is certainly not the zoom factor since all the models are between 7 to 7.4, so the zoom factor is presumably 7, rounded to a single number.
Swarovski Z8i features
8x zoom factor
With its 8x zoom factor, this is definitely a really versatile scope. There is no hunting situation that cannot be satisfied by one of their models.
Flexible reticle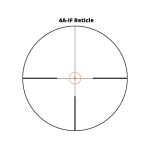 Two models (1-8×24 and 1.7-13×42) also have a flexible reticle feature (4a-IF). The hunter can choose between the 4a reticle and the Circle dot reticle just by pressing the buttons. It doesn't actually change the reticle, but you can choose to illuminate only the center dot, or also the whole circle. The circle when its not illuminated, can barely be seen, so the reticle is like a 4a. This feature will be really appreciated by hunters that like to hunt wild boars during the night and also use the same scope for driven hunts.
Flexible ballistic turrets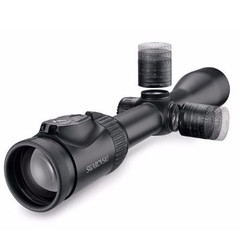 The new flexible ballistic turret can be easily attached or removed from the scope by pressing a button. It can be mounted for vertical adjustment, or for windage, or both if we have two. This turret can be purchased separately, and is interchangeable between all Z8i models. It also has a lot of different approaches to personalize it. You can choose between the standard ring with marks from 0-7 (0-70clicks/0-7 mils), or separate rings with numbers that we place accordingly to our drop. So it offers five shooting distances, which could be sighted precisely for any caliber on different distances. They can also order special customized rings for our ballistic data. The turret has a zero stop function and is lockable.
30 mm main tube
One of the key goals for the company was to develop an 8 times zoom in a 30 mm main tube, whilst not compromising the field of view or optical quality, which is really a challenge and makes this product outstanding on the market.
There are other features that were also available in previous Swarovski models, so I wouldn't repeat explaining them in this report.
Zeiss Victory V8 features
Smallest illuminated dot on the market
With its reticle 60, Zeiss has the smallest illuminated dot feature on the market to date. The coverage at 12x magnification is 0,55cm/100m. Since the reticle is in the second focal plane, this number gets smaller with higher magnifications.
Simple illumination control
The illumination control is really simple to use. It has an on/off button and the illumination power circle button.
ASV Long Range ballistic turret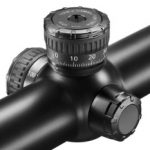 The Zeiss ASV LR is a lockable turret with 10 interchangeable rings. One is with a standard 0-100 click marks (/0-10mils). The other 9 rings are suitable for most recent calibers and its trajectory combinations. These are easy to use and suitable for most hunting distances, but cannot be precisely adjusted to individual calibers.
There is also a windage turret. Theballistic and windage turret can be added later, but it can be done only in the Zeiss factory. You can read more about this turret in our Zeiss ASV+ review.
Swarovski Z8i vs Zeiss Victory V8 (subjective part)
Until now, all that you have read is data taken directly from the manufacturers. Now I will write my own subjective point of view that includes some pros and cons of one product to the other.
Ballistic turret
So let's begin with the most important part for long range hunting, which is the ballistic turret. Zeiss has a really nice ballistic hunting turret. It is locked and you need to raise it to correct the drop. Then it locks by itself. Swarovski has a different approach, where you need to lock the turret manually. In case you forget to lock it, the turret can move by itself; however, prior to making the shot, you have to check the adjustment no matter what kind of turret you have. Swarovski has 7 mrad(70 clicks of 0.1 mil) of adjustment which is more than enough for long range hunting, however the Zeiss ASV LR has 10 mrad (100 clicks of 0.1 mil) in case you want to practice on targets at longer ranges. Swarovski's flexible turret that can be taken off the scope is amazing, but you need to pay attention not to compromise the zero if you forget to move it on 0 prior to take it off. With Zeiss, this cannot happen. However, since the Swarovski turret can be purchased later, and doesn't need any special equipment or rifle zeroing to install it, it is a real game changer. Unfortunately, the Zeiss ASV can only be installed in Zeiss factory and needs to be re-zeroed again.
Magnification range and dimensions
Zeiss has 3 models that cover all hunting situations (the 24, 50 and 56), whereas Swarovski has 4 models (24, 42, 50 and 56). I have to say that the choice is really hard with Swarovski since the 50 and 56 models have similar magnifications. I would expect the larger one to have a bit more magnification, but it also has a larger objective lens so that it makes hunting in low light easier.
Overall dimensions are hard to discuss. Zeiss scopes are shorter, but they look bulky with their 36mm tube. Swarovski is slightly longer, but really elegant with their 30mm main tube. There is also one thing that needs to be accounted for: Zeiss is 3mm higher than the Swarovski when mounted on a rifle (again because of its 36mm tube). This is the same even if it is mounted with the inner rail.
Conclusion
Let's not forget that we have compared two of the best hunting scope lines available on the market. You can't go wrong with either of them! Also keep in mind that the Swarovski Z8i is a new model, so more features are quite logical, however they achieved something technically almost impossible (real 8 times zoom in 30 mm main tube).  At the end of the day, I guess the scope you think is best also depends on which brand you love more.